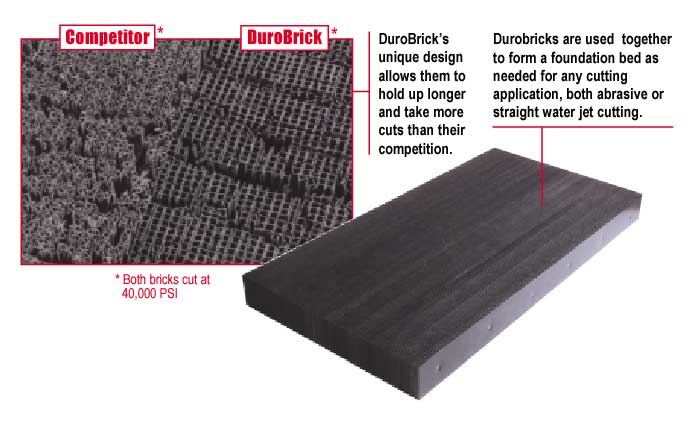 DuroPro™ Polypropylene material will not separate like laminated versions, allowing for more cuts and a greater savings.
Easily drains water away from the cutting area, reducing splashback.
Unique design creates an even, flat cutting surface that prevents smaller parts from falling through the brick.
DuroPro™ Polypropylene material reduces cutting noise creating a quieter workspace.
DuroPro™ Polypropylene material is 100% recyclable.
DuroBrick waterjet brick is the most durable, long lasting waterjet brick available in the marketplace today. Made from a proprietary polypropylene material manufactured specifically for the production of waterjet bricks, DuroBrick™ waterjet bricks hold up to the rigors of waterjet cutting better than any other brand. DuroBrick™ waterjet bricks are manufactured using the latest CNC equipment. Each brick is inspected under strict quality control procedures to ensure a flat even cutting surface. This procedure also allows cutting on both sides, thereby increasing the life of the waterjet brick. The tight-tolerance surfaces make an excellent foundation bed for cutting parts from materials such as:
Aluminum
Brass
Ceramics
Copper
Fabric
Foam

Gaskets
Glass
Inconel
Laminates
Limestone
Marble

Plastics
Phenolic
Steel
Titanium
Wood
Etc...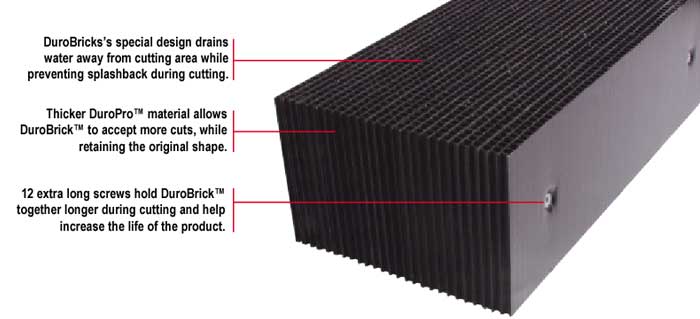 Material:
Exclusive super-tough, DuroPro™ polypropylene material. DuroPro™ material does not de-laminate and lose shape like many other waterjet bricks do.
Size and Weight:
Dimensions: 4" x 6" x 48" / Weight: 11 lbs.
Dimensions: 6" x 6" x 48" / Weight: 16.5 lbs. Specifications:
"Our two waterjet machines operate constantly, sometimes 24 hours per day. Over many years we have tried all of the different waterjet bricks available. The DuroBrick™ is by far the longest lasting brick we have ever used. We are sold on the DuroBrick™, and I think you will be too."
Sid Holman / President
Holman Mfg. Co. / Locust Grove, OK